24/7 in your face & in your ears so I'm only mentioning COVID 19 in passing as it would be wrong to ignore.
There are devastating outcomes resulting from the pandemic but its my belief that when we emerge from the darkness, we will all be in a better place.
This enforced pause gives us the space and time to evaluate what is important in our lives and I'm not talking toilet rolls here.
Out of necessity, businesses will spend time to look more closely at their operations. Friends and family relationships will meld more closely as they care for loved ones even from a distance.
I'm in the 'at risk' group but I'm continuing with my work and will use the copious time I'm now going to 'enjoy' to re-think, re-design and come out stronger at the end, whenever that will be.
Not however 12 weeks as BJ suggested, thats wishful thinking but I hope I'm wrong.
I'm also trying to access the grant made available to small businesses in order to survive. More on this next time but for now the grant is high on rhetoric and zero on content.
Under the circumstances the following image is kind of frivolous given the seriousness of our times but I never forgo the opportunity to post a decent image of myself. This one was taken at Affordable Art fair Battersea last week.
Till the next time.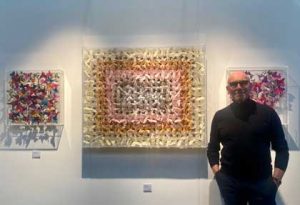 Michael March 20th 2020
---