Here you will read all the latest news and view new products as they are completed. 
A Message of Hope in Trying Times
It's impossible to share anything new about the state of the world that you haven't already pondered. These are challenging times but maybe one day there's a silver lining to be found even amid the clouds. Some individuals manage to maintain their optimism and resilience, carrying on as if the world's difficulties are mere passing storms. I strive to be one of them, and I'm inspired by the resilience that people can display.
While history may be marred by wars that stretch back through the ages, we find ourselves in a time where our collective actions can shape the future. It's a momentous responsibility, and I choose to view it as an opportunity to create history by fostering unity, compassion, and positive change.
Yes, there's still sadness and destruction around us, but there are also stories of heroism and resilience that light up the darkest hours. We must remember that every challenge presents a chance for growth, and in adversity, we often discover our greatest strengths.
Amidst these global shifts, my creative spirit remains undiminished, and I'm delighted to share a few new artworks with you. Art has always been a refuge, a realm where I can find solace, express my creativity, and escape to a world of imagination.
The art business, like many other aspects of life, has faced its share of trials. However, I've been fortunate to receive recent orders, which fuel my passion for art and keep me going. These connections and opportunities are a testament to the resilience of the human spirit and its unwavering appreciation for beauty and creativity.
While my debut with Galeries Bartoux in France in July was a thrilling step forward, the recent economic turbulence has posed challenges in the art market and I'm waiting for my first sale. Nevertheless, I remain optimistic that things will eventually turn around.
In a bid to manage costs, I've relocated my studio to a more compact, cozy space. It may lack the grandeur of my previous studio, but it exudes a unique charm and is filled with the warmth of creativity. I'm even thinking about getting a lightbox to brighten up the place.
On a positive note, I've recently joined forces with 'Brass Monkey', a new gallery and coffee shop in Radlett, Hertfordshire, which has ignited my enthusiasm for new opportunities and artistic ventures.
Though I may not rely solely on prayer to transform the world's negativity into positivity, I firmly believe in the power of collective action and resilience. Together, we can inspire change, urge those in power to make wiser decisions, and work towards a brighter future for all.
Until our next encounter.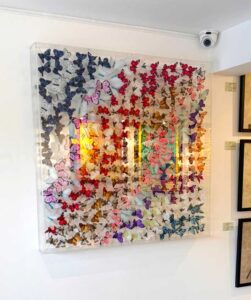 'Diaghilev' at Brass Monkey Radlett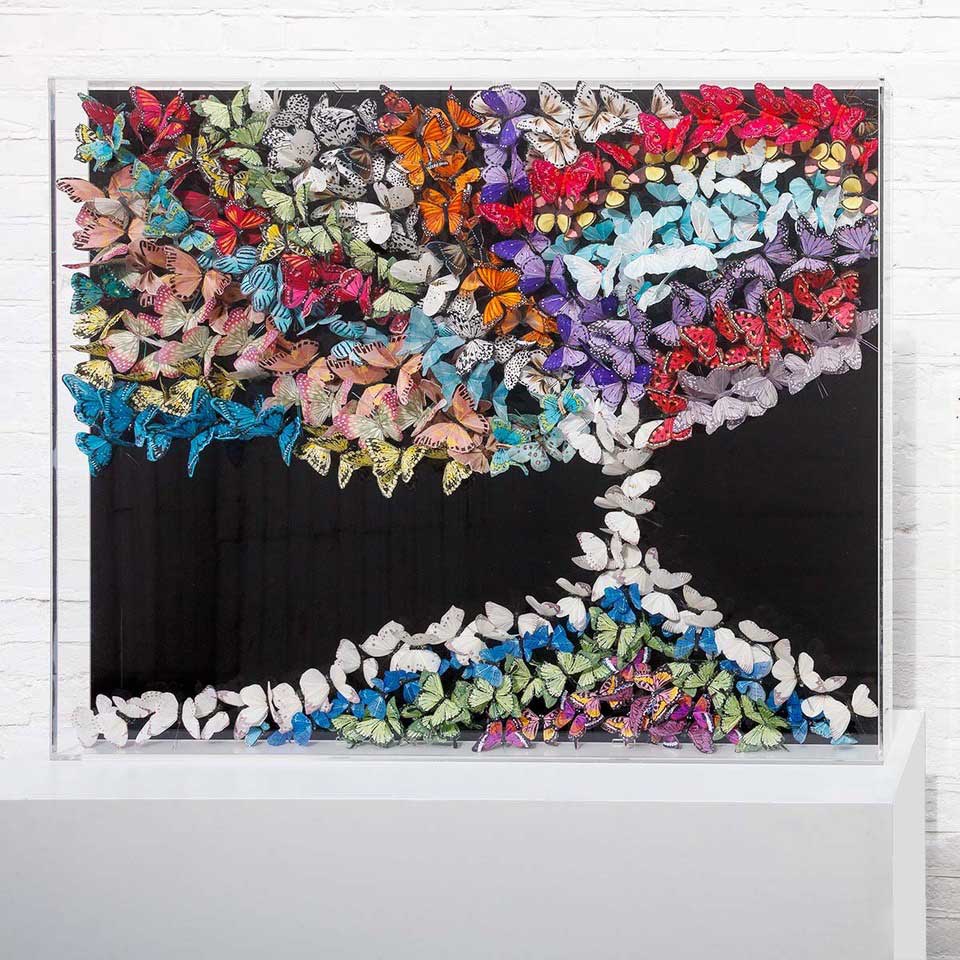 'Arboria' at Wyecliffe Gallery Walton on Thames 1100x900x10mm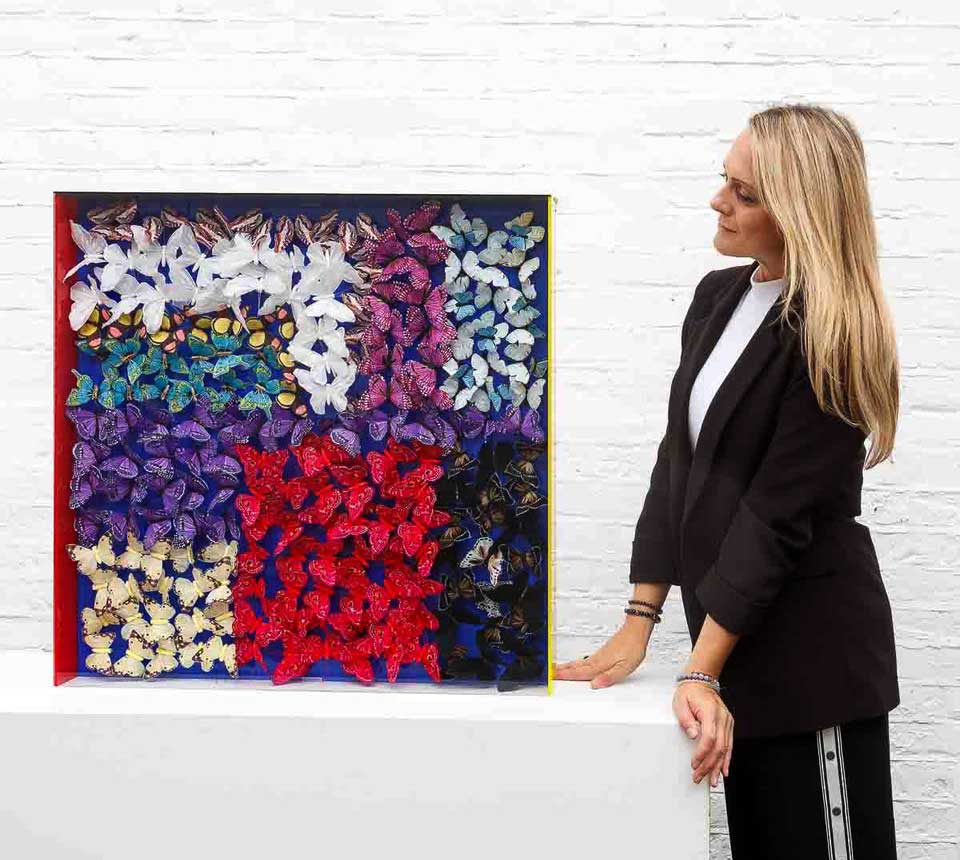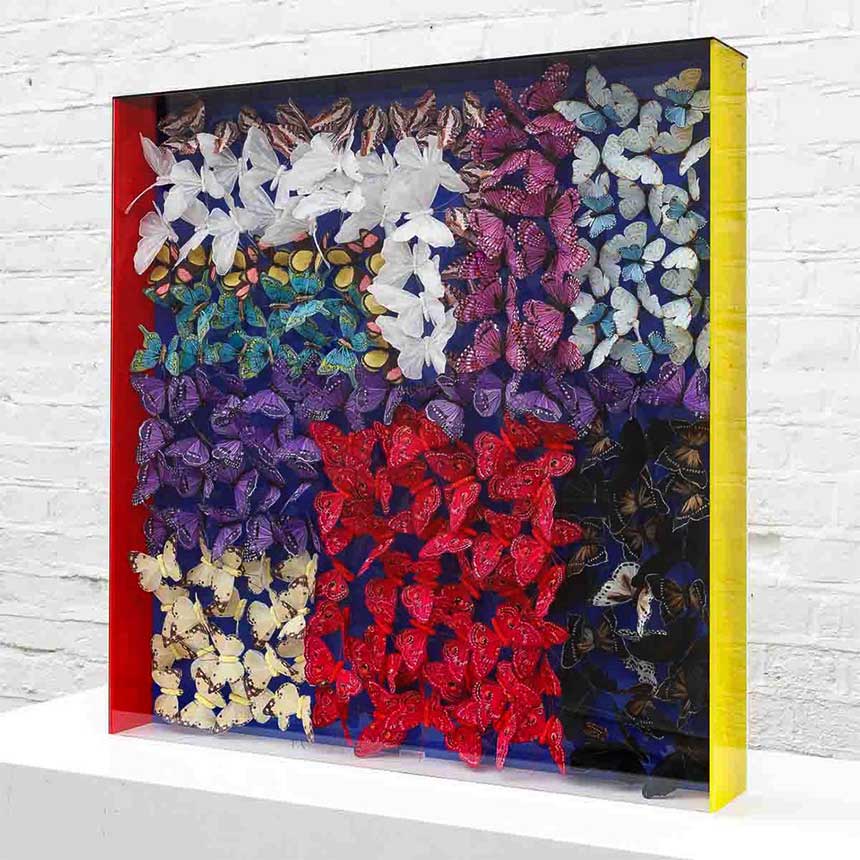 'Mouvementee' at Wyecliffe Gallery Walton on Thames 750x750x100mm
---
There's not a huge amount to write about at this time of year so I thought I'd just add some words and post a few images that I find interesting. It's obvious that August is not a great month as the majority of people are away on holiday and with the current economic climate sales of my works are very sporadic. However that does make me work a harder to generate leads and sales as well as create new ideas. As far as new ideas are concerned I've decided to move away from my scattered approach and create more recognisable shapes. I've added a few images below that illustrate what I'm starting to do and I'll be happy to hear any comments.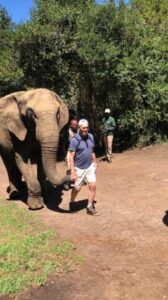 Holding 'hands' with an Elephant in South Africa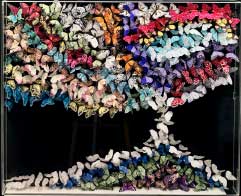 'Arboria' 110x90cm Butterfly Art.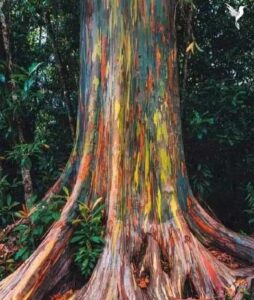 Apparently, a naturally coloured tree trunk that's inspired me to attempt to replicate it.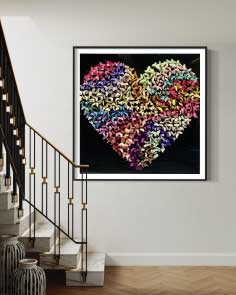 "Big Hearted"
150x150cm. Very large and the most difficult project so far.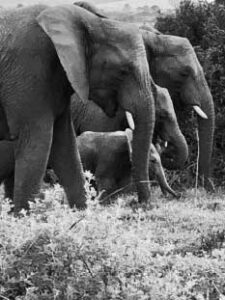 4 glorious elephants in the Kariega game reserve.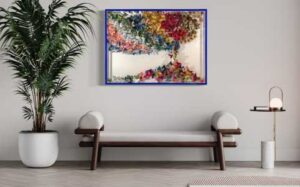 'Pacaya' 110x90cm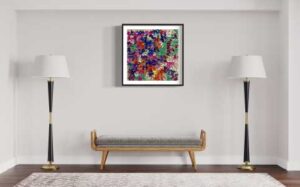 I love the digitally added frame in this room setting. I'm intending to start offering real versions in due course.
---
July 2023
My latest works and news. Short and sweet
Michael Olsen is an accomplished artist whose vibrant work has captivated the UK art-buying public, garnering him a growing number of followers. With his unique style and artistic vision, Olsen has managed to carve a niche for himself in the art world, and now he has reached an extraordinary pinnacle of acceptance with a renowned French gallery group, Galeries Bartoux.
This momentous achievement for Michael Olsen is a testament to his artistic talent and the widespread appreciation he has garnered. As his work continues to captivate audiences both in the UK and now in the prestigious French art scene, there is no doubt that Olsen's star will continue to rise. For art enthusiasts and admirers alike, experiencing his art in the picturesque town of St Paul de Vence on the stunning Cote D'Azur, showcases three of Olsen's exceptional artworks and is an opportunity not to be missed. This represents the culmination of his artistic journey thus far and an exciting milestone in his career.
The works showcased in the gallery offer a glimpse into the breadth and depth of Olsen's artistic prowess. The artworks exude a sense of energy and passion, creating a visual symphony that resonates with the soul.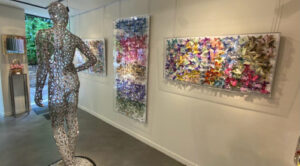 Olsen's art is characterised by its vibrant colours and a sense of movement that brings his works to life. His ability to capture emotions and convey them through his art is truly remarkable. Each piece tells a story, evoking a range of feelings and leaving a lasting impression on the viewer.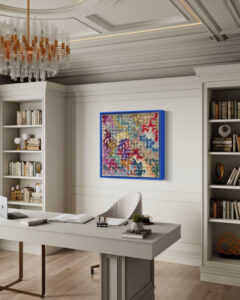 100×100 deep framed timber box with art glass face.
---
As an artist, I have the unique ability to capture the beauty of nature and translate it into a visual masterpiece. My creations are a testament to my creativity and talent, uncovered only a few short years ago.
One of the things that makes my work stand out is the use of feather butterflies. These delicate and intricate creatures symbolise transformation and rebirth.They serve as a reminder, as if needed of the fragility and beauty of nature. They add a touch of whimsy and magic to my work, and their intricate patterns and colours serve as inspiration for my artistic vision.
Through my work, I bring the beauty of nature to life and not the home. I capture the vibrant hues of a sunset, the softness of a flower petal, and the intricate details of a butterfly's wings. My art serves as a window into the natural world, allowing the viewer to appreciate its beauty and complexity in a whole new way.
As we approach the warmer months, my work takes on a special significance. With longer and lighter days ahead, the beauty of nature is even more pronounced. The lush greenery, vibrant flowers, and the fluttering of butterfly wings are all signs of a new season. My art reflects this excitement and anticipation, capturing the essence of spring and all that it brings.
As an artist, I'm gifted with the power to inspire and uplift those around me. My work is a celebration of life, and I hope that it serves as a reminder of the beauty that surrounds us every day. Whether bold, abstract pieces or intricate, detailed creations, I want my work to speak to the heart and soul of those who experience it.
One of my latest creations below is a 5ft x 5ft clear acrylic box with black backing. One of my favourites.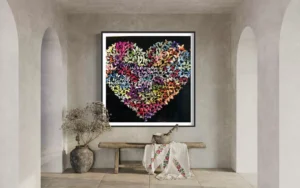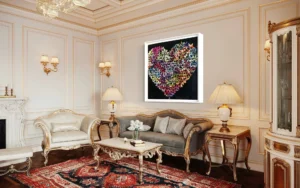 It's was the best of times, it was the worst of times. If only I had penned those lines……. they describe perfectly the situation many of us are enduring right now and I'm no different.
Not surprisingly sales of my artworks have been affected by the current financial situation. I've been using the time to create new works of which I'm pretty pleased. Here's one of them. Still not titled, its 120x90cm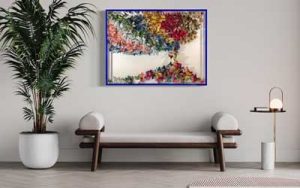 I'm also experimenting with a large glass butterfly which is only at a very early stage right now.
It needs to be lit to enhance its beauty and that's the challenge which will take some time.
Here's an early image, it's about 15" from wing tip to wing tip.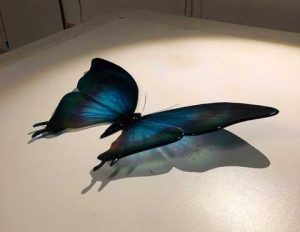 Most excitingly I'm happy to announce a tie up with Galeries Bartoux. They have many galleries located throughout France and one in Bond Street UK.
I've been commissioned to create 6 works, the 1st of which is now for sale in their Paris gallery. Image below (The multicoloured one)..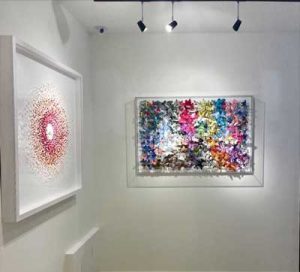 So it's not all bad news.
Wishing you all the best of times to come.
My wife and I recently returned from 2 weeks in Boston & Maine in the US. We had a lovely trip but it was somewhat marred by very high temperatures in Boston making our walking tours very exhausting.
However when we moved to the seaside, it was cooler and very picturesque. We all enjoy the the pleasure of eating out but even this activity was marred because it was so expensive, even for a meagre snack.
I saw some beautiful Monarch butterflies in a small town called North Conway. Here's one hovering outside a coffee shop.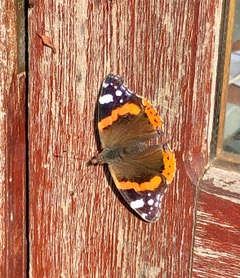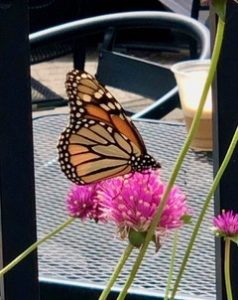 Thankfully my LA client received his commission and it arrived intact. Sending fragile works over long distances requires specialist packing which I undertook to ensure that 'Love & Hope II' arrived safe and sound.
I'm attaching a few images that show what I'm about, art, pet, family.
Just click on the links below to download the zip files onto your desktop and double click on them to open.
Zip file 1
Zip file 2
Thats it followers. Until next month