Here you will read all the latest news and view new products as they are completed. 
The title has nothing to do with broken acrylic boxes.
For a number of years I've been wrestling with a method of producing my Butterfly Art at a lower price point. However hard I have tried, the outcomes have not had the impact of the all acrylic boxes and so these prototypes have ended up on the cutting room floor.
However, I think that I'm finally on to something. By using the same gorgeous feather butterflies but with a less expensive display box and acrylic cover, I feel that there are real opportunities for increased interest and sales. To keep costs down, these creations will only be available direct through my website. There will be images of the prototype on 'my 'gallery page' within the next couple of weeks. https://www.butterflyart.co.uk/online-art-gallery/
It's the first few days back for schools and the roads are far busier. It's a shame really, but of course it had to happen as I've enjoyed the easier trips by car or cycle to my studio over the past few months.
So onwards and upwards but at a slower pace.
The following 110×90 creation is destined to be for sale at Artisan Gallery in Epping this week.

It seems that the honesty and openness of my last blog upset some of my clients. If you were one of them, I apologise.
However the thrust of my message when considered in its entirety was about doing what needs to be done to keep my business afloat and I'm not alone in that quest. Paring down expenses is one and extra sales promotion the other.
August is notoriously a poor month for the sales of Butterflyart and I suspect, all other forms of art. For me this August was no different and so instead of creating, I'm spending my time thinking of ways in which I can keep costs in check well as improve sales. I'm pleased to report that I've been able make progress in both areas and hope therefore to continue writing my blogs and selling my art into 2021 and beyond.
Online sales now appear to comprise a larger proportion of all selling activities and I am following that trend. Within the next three months I'll be producing a number of online collections that will be for sale through a select number of my gallery partners. I'll be building the art works but they will be placed within the acrylic boxes when sold. This will reduce my capital outlay but still enable me to create new designs and generally boost sales, at least that's the plan.
I recently spent a wonderful 2 weeks in northern Spain and I'm now over the quarantine period which was worth every one of the 14 days. My wife and I drove through France to get to the Basque country and the whole experience made it one of the best holidays we've ever enjoyed.
Below is an image of a new piece entitled "Sunrise". It will be on sale through branches of Cloud Gallery in Sussex within the next few days.
Finally a sneak peek at an unfinished star project. Apologies for the poor quality studio 'snap'.
Hi followers, apparently we are emerging from COVID.
Personally I don't believe it and I'm continuing to do all I can to keep safe. I'd love to go on a plane where its warm, go to the pub for a tipple but NO. Thats far too risky, for me anyway.
Now the good news.
I've just completed this wonderful commission.
It was a monster, weighing in at 50kg and measuring 2metres long. And apart from my bragging rights in bringing it to your attention, there's a story plus a lesson to learn but I'll keep it short.
I was commissioned by a lovely couple to build this piece for the wife's 40th birthday. Given a relatively free hand both with colours and layout, I was able to employ my own creativity.
The size of the box made it hard but not impossible to handle and manoevre in my relatively small workspace.
PREPARATION IN THE WORKSHOP
Part of my contract was to fit the work & on the day I arrive with VAN & 2 helpers to fix the piece in pride of place. The box was carefully set aside to assess the fixing process and only then did I discover that the selected position was a cavity wall made of plasterboard.
I was terrified at the thought placing a 50kg box on the wall in this beautiful home by what I saw as a potential for disaster. Not to bore you with the detail, but I wasn't confident and called in a specialist. The box had to be returned to my studio for storage and I returned 3 days later as did the box for what I hoped was the final fix.
It was!
It was a great outcome in a beautiful location and a satisfied customer, Here's their final comment I received this morning. "Thank you. I have paid the balance. We are delighted with the end result – we came downstairs at 3:15am last night to take another look at it! Thanks again."
The moral. If agreeing to fix "CHECK THE CONSTRUCTION OF THE WALL". I could have avoided a couple of sleepless nights and much stress had I done just that.
All happy now.
Michael July 2020
Disappointed but not down
Sad to say that 'Love and Hope' has not yet sold. Despite a big social media push and a superb response, I could not find a buyer.
It seems that Ebay was the wrong medium for this particular item but with approaching 1000 views my confidence is high.
I am now looking at alternative ways for the charity to benefit from its sale. Wychwood Gallery near Oxford, has agreed to promote the piece throughout its client base and as ever the optimist, I'm hopeful it will sell.
You met Martha the cockapoo a while back. She's growing fast and is now with me in my studio 3 days a week.
I'm now concentrating on creating new pieces. A number of my gallery partners have none of my Butterfly art works to show and I recalled them in order to make changes.
I've been blessed with having received a number of enquiries and sales, so with that confidence in my back pocket I'm ready to push forward with a new collection.
No its not Darth Vader in disguise but yours truly taking things seriously.
Excited of Herts and Hearts
Locked down or locked up?
Its both I guess, but I'm fortunate that I still have a business to go to.
I'm playing within the government guidelines and I can't do my work from home. My office is isolated so I'm as safe as anyone can be from COVID.
I'm excited because I'm getting enquiries as well as sales for my art works. As I've covered in previous blogs, these leads feed my artistic soul.
To me It's counter intuitive that despite the mayhem surrounding us, art is selling and some of it is mine.
I'm super excited because I have now completed the project mentioned previously which will be sold to help raise funds for a hunger charity.
A picture tells a 1000 words so please feast your eyes on this one off signed work. The completed installation presents far better than I had hoped for and I really love the piece.
Entitled 'Love and Hope', it features 400 hand finished feather butterflies within its 100x100cm acrylic case and can be purchased via my website.
I'm hoping that my next post will announce the completed sale and the sum donated.
Stay safe.
Somewhere over the rainbow
The rainbow has taken on new significance for us all. For me it signifies a light at the end of this long tunnel and a belief that there's better to come.
I'm fortunate enough not to have been touched personally by a tragedy attributed to COVID,  of course I still feel the sadness thats pervading our society.
There is joy as well as sadness and my philosophy is to seek the joy from where it may be found.
My new puppy Martha, a chocolate brown cockapoo who is a total delight and just a little naughty.
The fact that I'm healthy and seem to have avoided COVID despite some worrying symptoms a couple of weeks ago. These have now passed.
Butterfly Art moves on slowly with the odd enquiry as mentioned in my last blog.
I'm super excited to announce a fund raising version of the rainbow. This will of course feature feather butterflies. The difference from previous creations are 3 fold.
1. The classic rainbow shape and colours are being held within the shape of a heart.
2 This installation will be a one off and non repeatable item, signed by the artist and is 100x100cm
3 50% of the proceeds will go to charity.
I want to continue to make my contribution to those in need. This intended sale will I hope, go someway towards that end.
PART COMPLETED but on its way…………..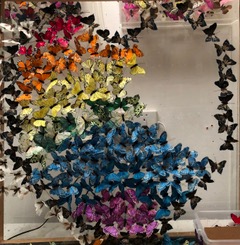 ---