Here you will read all the latest news and view new products as they are completed. 
I'm going through an interesting phase at present. I'm really really busy, but my bank balance is shrinking.
I know that in the fullness of time, things will improve as I have a number of commissions to complete. There are several invoices outstanding for payment and some really exciting high end orders that are waiting in the wings.
Fuller details on the latter next time. However to whet your appetite, I'm working on an exclusive range of my work which, if the early sample is successful, will make a huge difference to the reach of my audience.
Mentioned in my last Blog, the Love and Hope adaptation has been completed and is now on the way to LA. I'm such a name dropper!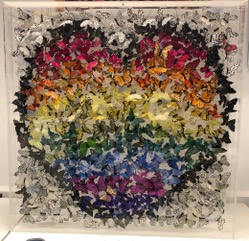 Commission entitled 'Spreading Love & Hope. 100x100mm Mixed media.
What's new?
To answer my own question, a light box. 60x60cm The almost infinite range colours can be varied using a remote control. These are just 3. I love it.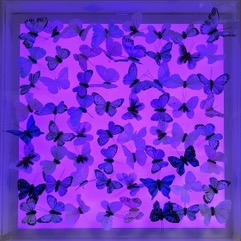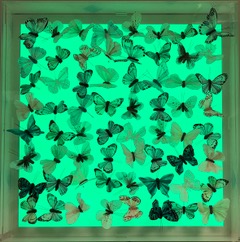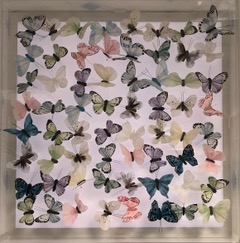 Also a new concept for me is a theme based on Her Majesty. QE II is on sale exclusively through Tanya Baxter International located in Kings Road Chelsea,
However you'll have to go to Hong Kong to see it in the flesh as its was shipped there last week. There are a limited run of these due later in the year.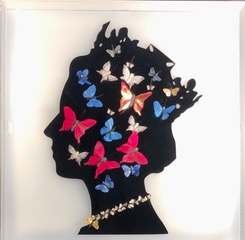 I'm considering using more laser cut outlines similar to QEII in the future. It enables me to create more defined outlines. Please watch this space…….
My wife and & I are booked on a flight to Boston shortly. I can't say I'm very enthusiastic particularly at the notion of arriving at Heathrow to be faced with a long queue, or told that our flight is delayed, or cancelled.
Finally here's a piece of fluorescent acrylic butterfly art. 75x75cm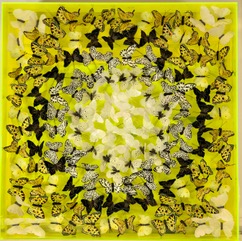 'Mellow Yellow' Available at Lilford Gallery Canterbury
OMG, I've just checked back and it's six months since I wrote my last blog!  Where that time has gone, I just don't know?
It's been a busy period for me which despite the mayhem that surrounds us all, seems to go against conventional wisdom.
I've been commissioned to make some amazing works one of which was 2.3 m long and here's an image of it. Its in a home in Radlett
I've been trying to get to grips with social media which continues to be a mystery to me. I've recently spent a lot of time learning about the nitty gritty of Facebook.

It's my attempt to improve the quality of my posts and ultimately followers & sales. It's of great interest to me that 30% of my Google searches come from the United States.
Only last week I confirmed a commission from Los Angeles to replicate "Love and hope".
This was a work that I created during lockdown and mirrored the NHS rainbow. Below is what it looked like and I still love it. What do you think?
Martha my Cockapoo, now 2 1/2 years old continues to be a great source of joy. Her love, licks and long walks have really enhanced my life
Surely she must win the contest for the dog with the longest eyelashes? If I'm wrong send me some of your photos
The following piece of my art probably gets the prize for taking the longest time to come to fruition.
I had the idea to create a light box two years ago and assembled all the components in early 2020.
It sat around unloved until the beginning of this year when I decided that I had to come up with something interesting and different without further shilly shallying.
I fiddled around with various ideas none of which made any sense to me. I decided in a flash of inspiration to change the colour of the backing to blue by applying adhesive film and you can see the results below which are outstanding.
Sometimes you just have to wait for inspiration. As soon as it was completed I sent it to Wyecliffe galleries in Weybridge, who sold it within a week.
This was very uplifting.
LIGHT OFF

LIGHT ON

That's it till the next time.
Enjoy your summer
Michael
I drafted this blog two weeks ago before the mayhem called Omnicron arrived on our shores.
It's scary and thats all I'll say on the matter other than I hope that all of you keep safe and enjoy the holiday period as much as you're able.
Perhaps in common with other creative individuals, I get inspiration from unlikely sources.
I spend a lot of time walking my Cockerpoo Martha, who you may well have been introduced to in my previous blogs. When I'm in the depths of the Surrey Hills or elsewhere in the countryside at this time of year, I'm presented with a fantastic array of autumnal colours that I'm intent on mirroring in some of my new works as part of my 'New England in the fall' syndrome. Sadly there are no butterflies around us right now but I can still include them in my work, which I will do. A friend of mine sent me a gorgeous image of some art which now holds pride of place in her home. I immediately thought that I could create my own version using butterflies instead of paint. Here is an image of it which I will base a future work on.
The Blue Lady that I introduced you to back in May has finally been completed. It was one of those creations that really tested both my patience and whatever creativity I possess. I built it, rebuilt it, changed it again and again until I got to the point six months later where I'm really happy with the end result. Here is an image of me with the work at Wyecliffe Art Gallery in Weybridge, where it is now for sale. Here she is with me alongside.
Finally, I had an epiphany this morning! I've been creating butterfly art using a very similar format for the last 12 years. Whilst my work has developed and been appreciated by a growing audience, I feel the need to change direction completely. Henceforth, I will not be creating any new works in the current formats, unless commissioned. Instead I intend to create new, exciting and alternative ways of using feather butterflies. With this in mind, it's my aim to attract a new sector of the art buying public, and my next blog may contain the currently secret designs.
Happy Christmas.
I continue to be busy as mentioned in my last blog. Despite the early effects of Covid dampening our spirits as well as the economy, the buying public are out there, wanting to invest in art and fortunately I'm not an exception.
I've been wanting to place a frame around my work for some time & I recently designed a butterfly box with a black Perspex surround fitted.
The image below illustrates the work which I think looks really smart. Quite soon it will be for sale on my website along with other new and not so new items. For more information please contact me
michael.olsen@butterflyart.co.uk
Ombre design boxes have frequently been popular and below is another that I'm particularly proud of. it will appear on my website soon and be available for sale.
For more information please contact me at michael.olsen@butterflyart.co.uk
I've also listed these slightly less than perfect installations.
They tend to be pieces that have been on display in galleries or handled poorly and the surfaces are marginally scratched.
I don't sell these at full price and they appear from time to time on my online gallery at greatly reduced prices.
For more information please contact me at michael.olsen@butterflyart.co.uk
I'm happy to report that despite the governments mishandling of Covid they have successfully done their bit to help small business, and I'm no exception. In common with many other small firms, I've survived partially due to UK GOV grants. Most recently, and as mentioned before, I've taken advantage of the scheme providing jobs for 18-22 year olds where the salary of the apprentice is funded by UK GOV for 6 months. A training grant is also paid to the employer. 'Kickstart' have found me a very capable and talented trainee called Ben. Within the first few days of him starting work, he's shown aptitude, common sense and keenness all of which have helped me enormously. Just getting this blog out is a tiny example of how I'll be able to stay a step ahead instead of one pace behind. There's a lot more to come from him too. and I hope to be able to repay him with whatever training, creativity and practicality I can offer in return.
An finally……Yes I managed to get away to Rhodes with my wife for two weeks in August. It was a delight despite the huge anxiety caused by the paperwork required, vaccinations and passenger locator forms!
Till the next time!
The Sun is shining, its a beautiful day and I have good things to report & not all of it related to Butterfly Art.
HEALTH
On the health front I've suffered from arthritis for some time and recently discovered a fantastic anti-inflammatory tea mix. It's completely natural and since I've been taking it the pain of arthritis and my sore shoulder are much improved. I buy this tea from Spice Way in Radlett and highly recommend it for inflammation. This is what it looks like and whilst not cheap, IT WORKS!
BUTTERFLY ART
I spent all of yesterday tidying my studio and am very happy now that it's in order. I can find what I'm looking for without spending half an hour searching through a mess. I feel so much better walking into a clean and clear space which I'm hoping it will reflect a clean and clear approach to my work. Moving on to my work, I'm happy to announce that I've been extremely busy over the last month. Orders have been coming in for commissions through my network of art galleries who represent me. My website has also attracted new clientele which has generated sales too. This is all very positive and I've decided to take on an assistant through the governments Kickstart scheme. For at least six months, I will employ and train a young person to help me with production and design and hope the appointment will speed up the process of getting my work into the public domain much more rapidly. At present I'm head cook and bottle washer which results on my efforts being spread very thin on many fronts. An assistant will definitely improve the situation and as a bonus, the government is funding the first six months salary.
A commission in the process of creation.
MARTHA
I've mentioned my lovely dog Martha in the past who continues to be a joy. She gets me out and about and it's so wondrous to see her leaping through forests and meadows when we go walking.
HOLIDAYS
I'm going to Greece for a couple of weeks mid August. Naturally, I am really looking forward to it and even though Greece is on the amber list, I've had both my vaccinations. I'm hoping that nothing will happen between now and then to spoil the rest I really need. Have a lovely summer everybody.
This unique piece comprises a riot of blue/turquoise & peach feather butterflies set on a 'floating' white centre panel. The panel is 160cmx40cm inside a clear acrylic box which is 180x60cm.The beauty of work speaks for itself and has been previously hung in a high-end property. Along the way, It's picked up one or two minor marks on the case which are too small to photograph. Due to the nature of this slightly less than perfect work, it is for sale at a considerably lower price than the £6000 it would normally be sold at. You'll be hard-pressed to notice the faults if they weren't pointed out to you. However, as such, it can't be sold as a perfect item. Please direct any enquries to me at michael.olsen@butterflyart.co.uk