Here you will read all the latest news and view new products as they are completed. 
Despite the current woes of the world I'm pressing ahead with my aims and ambitions to improve the reach, acceptance and growth of Michael Olsen butterfly art.
Last week I appointed a social media guru Matt Paris, to help me spread the word. He and I have made a great start. The ad campaign is planned, images of my work have been curated and I'm very excited to assess the outcome of Matts efforts in the coming weeks.Unrelated to the above, I took 2 orders last week which is encouraging for me. Both were from Cloud Gallery in Worthing so thank you to Damian.
As mentioned last week, Affordable Art Fair opens in Battersea Park from Wednesday evening. I'm hoping for a good reaction to the display of my works on Linda Blackstone's stand.
The new design below is a variation on the ombre theme but with 2 colours only. its 75x75cm and priced at £2195
After 9 years of creating my butterfly art, I still get enormous pleasure from the positive comments and appreciation made by buyers and followers of my work.
The installation below arrived in the US last week, sold by Canvas Gallery Winchester, and this is what the purchaser had to say…,
As I was leaving this morning for work. Pnina and I spent a minute looking at the piece, we are both enamoured by it. We saw the handiwork that went into each individual butterfly, they are magnificent!
Please convey to Michael the joy he is providing us with. One of the reasons we chose a butterfly piece is that it reminds us of Pnina's mother and father, who are both deceased. More than sixty years ago my father-in-law gathered 'real' butterflies and framed them for my mother-in-law.
For many years we had that on our wall, as it continued to fall apart. This piece is a gentle reminder of that and her parents too.
I think Michael accomplished the primary function of art with his work.
He made the viewer have an emotional reaction, and in this case for us it is a warm fuzzy feeling. Not to mention of course how beautiful his art is."
Priceless remarks.
Next week Affordable art fair opens in Battersea Park. My work is being represented by Linda Blackstone Gallery. Here's a preview of some of the works of mine that Linda will be displaying.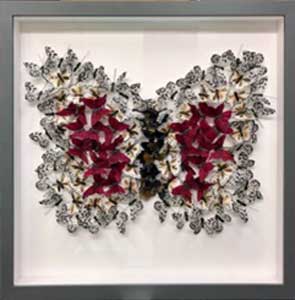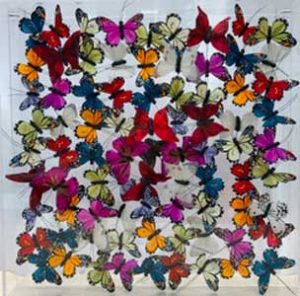 Lighter evenings, lighter mornings and temperatures above zero. It's beginning to look and feel a bit like spring.
With this air of enthusiasm, I have revitalised blood in my veins, new ideas in my brain and the drive and determination to make this the very best butterfly art year yet.
I'm in the process employing an intern from a local art college to help me with my work, my designs and hopefully provide additional creativity.
Its my intention to associate my work with an additional 10 galleries so that my art is represented more evenly throughout the UK. Currently its very much southern England focussed.
I shall be increasing my social media and PR activities to support my gallery partners and spread the Mchael Olsen brand further afield. The public are now able to purchase my work direct from my website.
I've recently begun making butterfly letters. If of interest please enquire through my website contact page or call me on 07980811363
Here are some recent examples.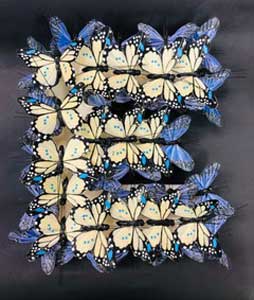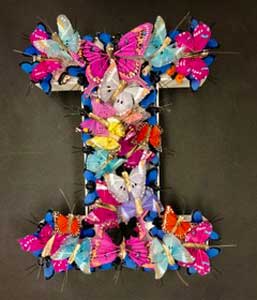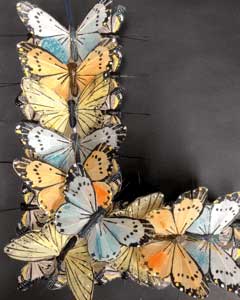 Michael February 2020
As most of you are aware I'm a one man band. Head cook, bottle washer and dogs body. Therefore it doesn't take much to make me busy even when the Art business is being blown from highs to lows by the prevailing financial and political winds.
So I'm very fortunate that whilst there are a couple of Gallery hotspots where my work is selling, I have recently won a couple of private commissions, this is very satisfying.
The work shown below was delivered last week and will be on display within a property development show home quite soon.
It 120cm x120cm and at the clients request contains 20 real butterflies amongst the 500 feather variety.
The black acrylic background of this piece shows off the butterfly colours in quite a different way compared to the normal clear backing.
The second commission is being built now and is 150cmx100cm and is pretty hefty. It will contain some craftily hidden messages as requested by the commissioner.
Not your normal Butterfly art. More information and images will follow as the project develops. 
Finally, a new commission from Canvas Gallery Winchester which has been recently completed.
This lovely piece is to be included in a wedding list which must be a first for my work. Very gratifying.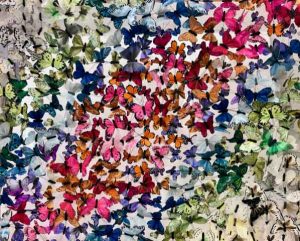 Just waiting for the UK election to be over now. However something tells me that it's not going to solve much.
Good wishes from deepest Watford
Michael November 29th 
Saturday October 19th and Brexit
How could I not mark this potentially critical day for the UK, without mentioning Brexit. Personally I want it over.
I admit that I have never understood the minutiae of "the deal" and rightly or wrongly, I'm leaving it to the "experts" to resolve as I've had enough.
In common with many other sectors of business, the Art trade has been seriously undermined in recent months. Brexit, a weak pound and the need for new ideas are some of my hypotheses for this weakness. In my opinion what the country and economy needs is stability in order to get back to concentrating on developing trade and wealth. Money in the pocket is one feel good factor that make the collective mood lighter and I hope would begin to improve business investment, sales and a bright outlook.
As for Butterfly Art and my version of it, new designs and ideas are still work in progress. Numerous options are in the melting pot and amongst them gold leaf winged butterflies, LED illuminated boxes, using clients wallpaper or furnishing fabric as a background within a butterfly box.
There's more but for now I will keep thinking.
Please check my 'whats new' page that shows my latest creations.
October 19th 2019
Almost a month has passed by since my last blog and oh, how the time flies when your'e having fun.
I'm still wrestling with the changes I'd like to make relating to my artistic direction. I am considering a collaboration with another artist. If that comes to pass, we might both benefit from fresh ideas and approaches.
I have received a new commission this week from a property developer. The 1200x1200mm butterfly box which when complete, will be displayed within a show house. At the behest of the principal, it will contain some real butterflies as well as the feather variety.
Fresh Art Fair Ascot was held last week and was a moderate success with one it of my works being sold via Linda Blackstone Gallery. Here is an image of it and I'm keeping to the style with additional new works in progress based on this ombre design.
4 works are off with Linda  to be shown at the Affordable Art fair in Singapore.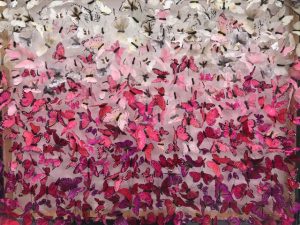 Finally, ombre heart shape 750×750.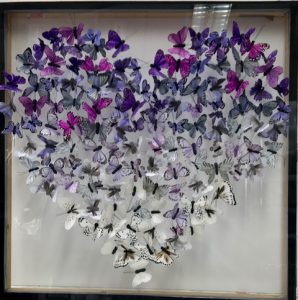 September 26th 2019
ps. Zoe the gymnast is languishing in the corner of my workshop at present. I'm lacking motivation at present.
---