Almost a month has passed by since my last blog and oh, how the time flies when your'e having fun.
I'm still wrestling with the changes I'd like to make relating to my artistic direction. I am considering a collaboration with another artist. If that comes to pass, we might both benefit from fresh ideas and approaches.
I have received a new commission this week from a property developer. The 1200x1200mm butterfly box which when complete, will be displayed within a show house. At the behest of the principal, it will contain some real butterflies as well as the feather variety.
Fresh Art Fair Ascot was held last week and was a moderate success with one it of my works being sold via Linda Blackstone Gallery. Here is an image of it and I'm keeping to the style with additional new works in progress based on this ombre design.
4 works are off with Linda  to be shown at the Affordable Art fair in Singapore.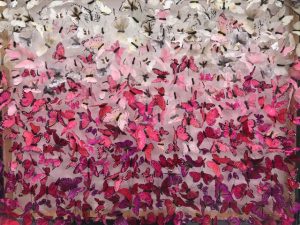 Finally, ombre heart shape 750×750.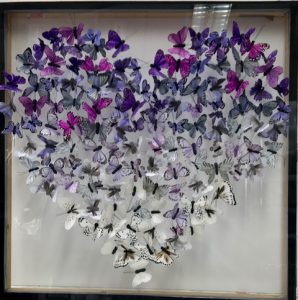 September 26th 2019
ps. Zoe the gymnast is languishing in the corner of my workshop at present. I'm lacking motivation at present.
---