As most of you are aware I'm a one man band. Head cook, bottle washer and dogs body. Therefore it doesn't take much to make me busy even when the Art business is being blown from highs to lows by the prevailing financial and political winds.
So I'm very fortunate that whilst there are a couple of Gallery hotspots where my work is selling, I have recently won a couple of private commissions, this is very satisfying.
The work shown below was delivered last week and will be on display within a property development show home quite soon.
It 120cm x120cm and at the clients request contains 20 real butterflies amongst the 500 feather variety.
The black acrylic background of this piece shows off the butterfly colours in quite a different way compared to the normal clear backing.
The second commission is being built now and is 150cmx100cm and is pretty hefty. It will contain some craftily hidden messages as requested by the commissioner.
Not your normal Butterfly art. More information and images will follow as the project develops. 
Finally, a new commission from Canvas Gallery Winchester which has been recently completed.
This lovely piece is to be included in a wedding list which must be a first for my work. Very gratifying.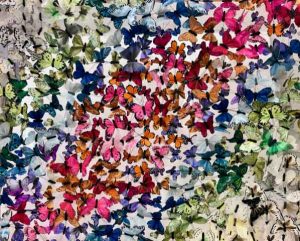 Just waiting for the UK election to be over now. However something tells me that it's not going to solve much.
Good wishes from deepest Watford
Michael November 29th